Profile rail guides – LLT | Thanh dẫn hướng Rail Guide Ewellix được sử dụng rộng rãi trong nhiều ứng dụng khác nhau, yêu cầu độ chính xác cao.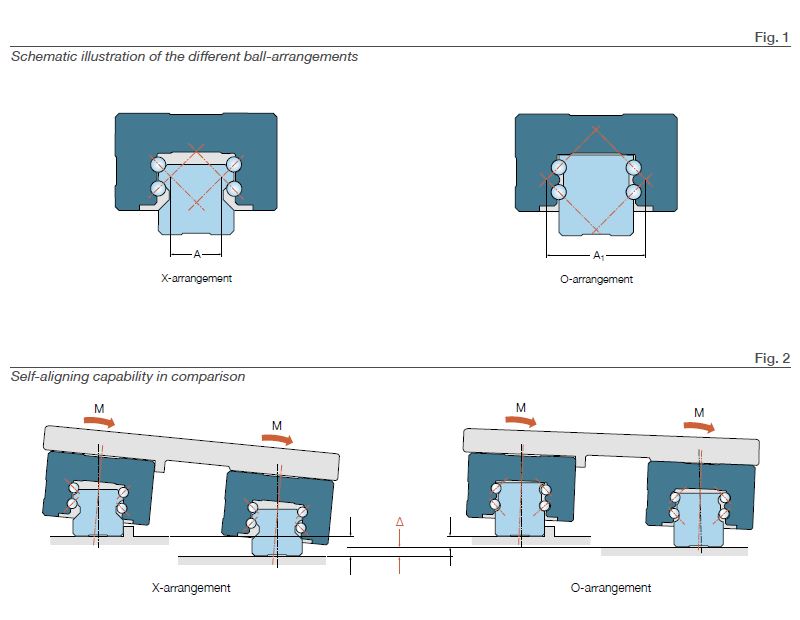 Features and benefits
Improved running performance The LLT profile rail guide has four rows of balls with a 45° contact angle between the rolling elements and raceways. This X-arrangement improves the system's self-aligning capability. Mounting deviations can be accommodated even under preload, resulting in smooth running performance. Friction is kept to a minimum due to two-point ball contact. This enables reliable, stick-slip-free operation for the life of the rail guide.
Modular concept for customized solutions Applications have different speed, precision and environmental requirements. As a result, Ewellix LLT rail guides use modular components so that cost-effective solutions can be built based on the needs of the application. Various precision and preload classes are available to meet different precision and rigidity requirements. Furthermore, a wide range of accessories supports its adaptation to specific environmental needs.
Rigidity, strength and precision for improved production processes The four-row arrangement of balls at a 45° angle optimizes load sharing in all four main load directions and is in accordance with ISO 14728. This feature provides a high degree of design flexibility. The ability to accommodate high loads and moment loads makes these rail guides ideal even for single carriage systems.
Longer service life and reduced maintenance Ewellix profile rail guide carriages are pre-lubricated at the factory. The integrated lubricant reservoirs, located in the end plates, constantly relubricate the circulating balls. Both ends of the carriage have threaded metal lubrication ports to accommodate an automatic re-lubrication system. One grease nipple is provided as standard with each carriage. These fully sealed carriages have double lip seals on both ends as well as side and inner seals. The low-friction seals are highly effective against the ingress of contaminants.
Interchangeability and global availability The main dimensions of Ewellix profile rail guides are in accordance with ISO 12090-1. This enables dimensional interchangeability with all ISO-compliant brands. Ewellix's global sales and distribution network results in availability of replacement parts and serviceability for all systems worldwide.
Cấu tạo Profile rail guides – LLR
Material specifications
1. Steel, inductive hardened
2. Steel, case hardened
3. Bearing steel
4. Steel, zinc coated
5. POM, reinforced
6. EPU foam
7. PA 6.6 and Elastomer; alternative low friction S0 shield made from PA 6.6
8. Steel
9. Steel, nickel coated
Các bộ phận Profile rail guides – LLT