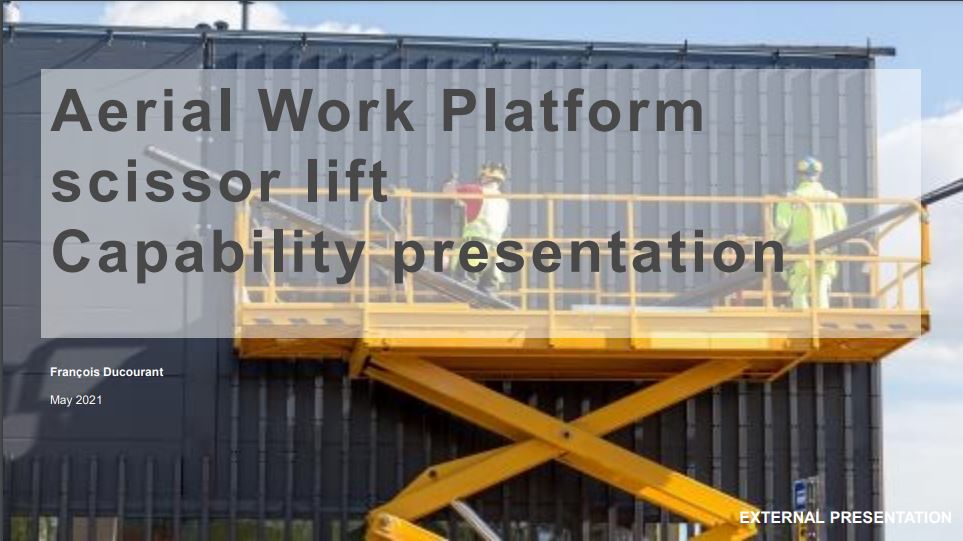 Application technology
1 Electrification trend in mobile machinery
Change from Internal Combustion Engine (ICE) to Battery Electrical Vehicle (BEV )
Push by regulation : global and local
Sustainable energy
Lower CO2 emission
Work in the city and indoor
Lower noise level
Less CO2 emission
Maintain the power density and durability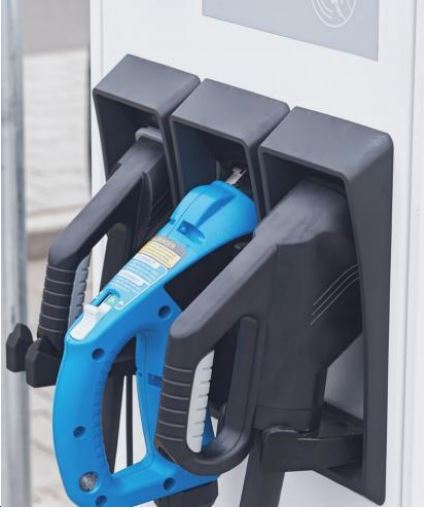 2 Aerial Work Platform
Aerial Work Platforms (AWPs), now called Mobile Elevating Work Platforms (MEWPs) are mechanical devices used to provide temporary access for people or equipment to inaccessible areas, usually at height.
A scissor lift is a type of platform that can usually only move vertically. The mechanism to achieve this is the use of linked, folding supports in a crisscross "X" pattern, known as a pantograph (or scissor mechanism).
It is used indoor and outdoor on flat surface. Most of them are electrified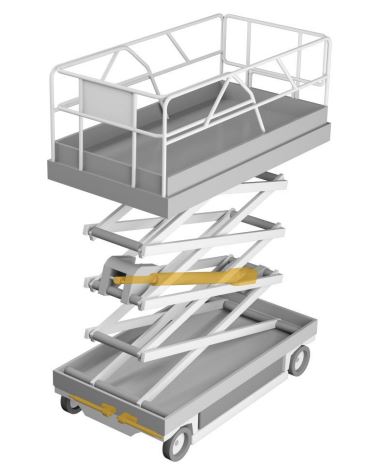 3 Current technology for work functions
Depending the AWP, technologies used are:
an electro hydraulic system with electro gear pump, tank, control valve, hose and cylinder OR
an Electro-hydraulic Actuator that is a cylinder with a stand-alone hydraulic system powered by electrical wire and controlled by a switch for extend and retract motions
Both solutions have a relieve valve to avoid over load and that provides a lowering solution with oil returning to the tank
A diaper on the base is typically provided to absorb possible oil leakages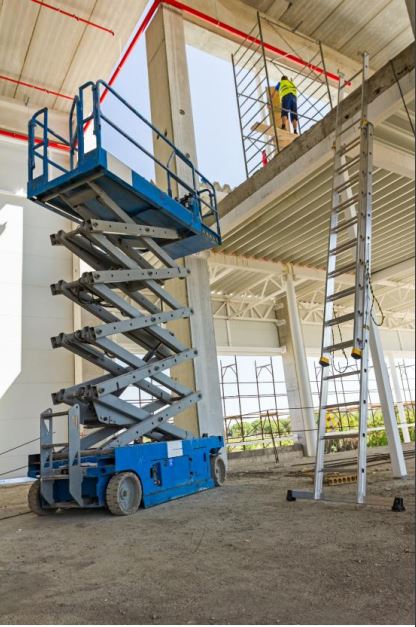 Customer case
1 Main Customer needs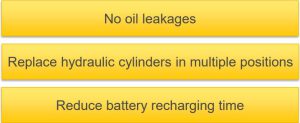 2 No oil leakages
Multiple hydraulic circuit points can leak: hydraulic cylinders request multiple hoses, pump, control valves, relief valves, filter and reservoir
Slipping risk
Floor cleaning operation
In addition, maintenance of hydraulic system, regular checks and parts replacement time to time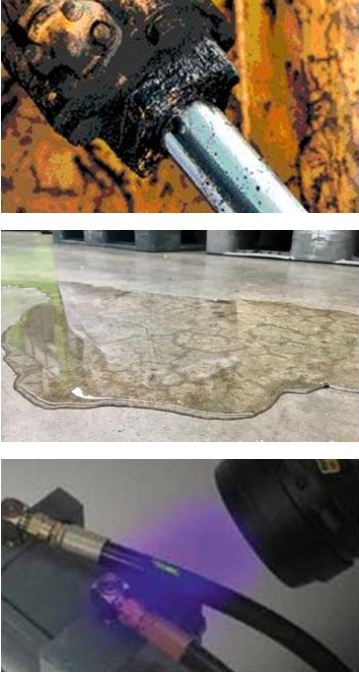 3 Replace hydraulic cylinders in multiple positions
1. Elevation height control requires a position sensor on the scissor or on the hydraulic cylinder
2. Elevation requires a secured stability and a lowering device at a safe speed in case of power failure
3. Steering system requires repeatable and reliable positioning with limited backlash plus a manual operation in case of power shut down
4. Pothole guard requires position feedback to control the engagement
5. Platform Horizontal movement or extension and locker requires an acknowledgment of the safe position reached.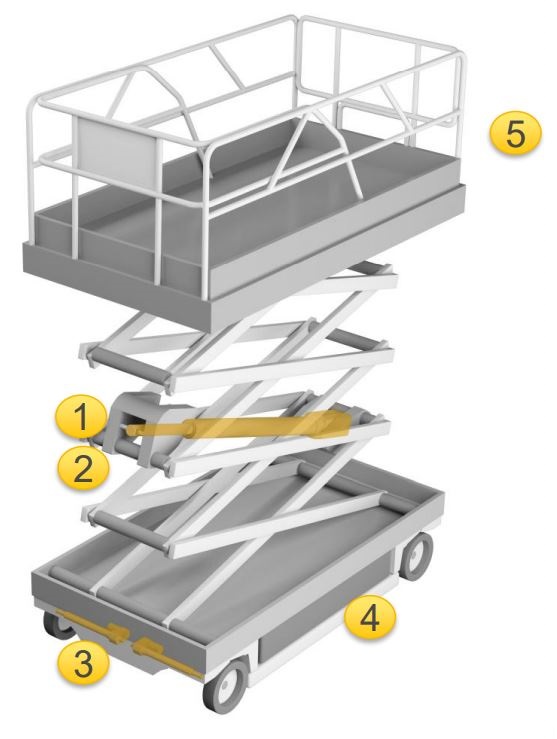 4 Reduce battery recharging time
The AWP scissor is already electrified
The wheel drive is done by electrical motor on the wheel
The lift and steering systems use typically electrohydraulic solution, with poor efficiency and without electrical energy regeneration on the lift function, the main source of consumption
Large battery, so high cost
Long time to recharge the battery, so less uptime or need to have high power recharging stations
Ewellix offer and value proposition
1 Aerial Work Platform scissor with Ewellix Electro Mechanical actuators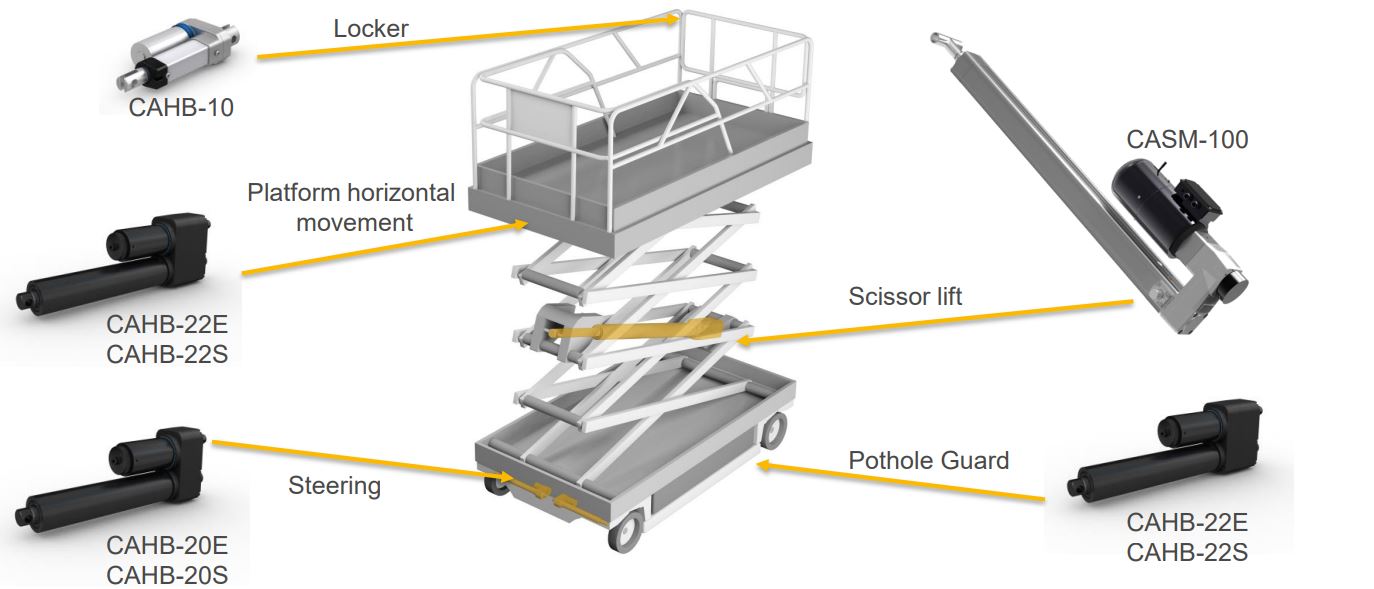 2 CASM100 features for lifting
Load up to 59 kN
Stability up to 180 kN
High safety and redundancy with back-up nut
Position feedback via incremental or absolute sensors
Manual lowering with preset speed
High Efficiency with spur gears and ball screws
Trunnion mount, T-bar, screw jack version
24 or 48 Volt Motor for mobile applications
Stroke up to 2m depending on the load
Speed up to 210 mm/s
Environmental tests documented: mechanical, electrical, climatic IP54 to 65, -40 to 85°C,…
Customizations: stroke, retracted length, cable, attachment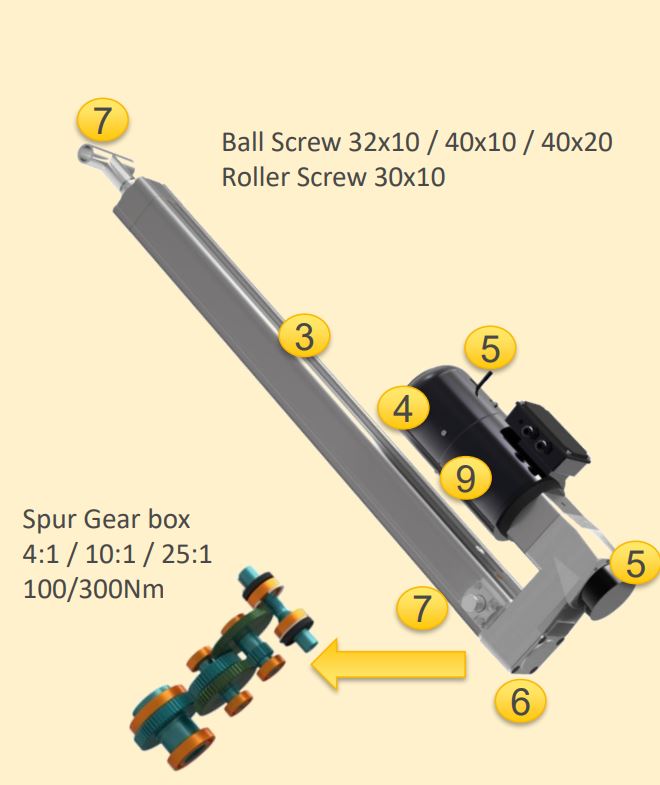 3 Manual lowering system
FEATURES
Two brakes: 1 electro-mechanical and 1 centrifugal brake
Manual lowering operation through Bowden cable to unlock the brake and centrifugal brake to control the lowering speed
Reliable mechanical safety elements
Lowering operation like hydraulic systems
Self-controlled maximum down speed of the scissor
BENEFITS
Smooth and comfortable downwards motion
High safety through redundancy of components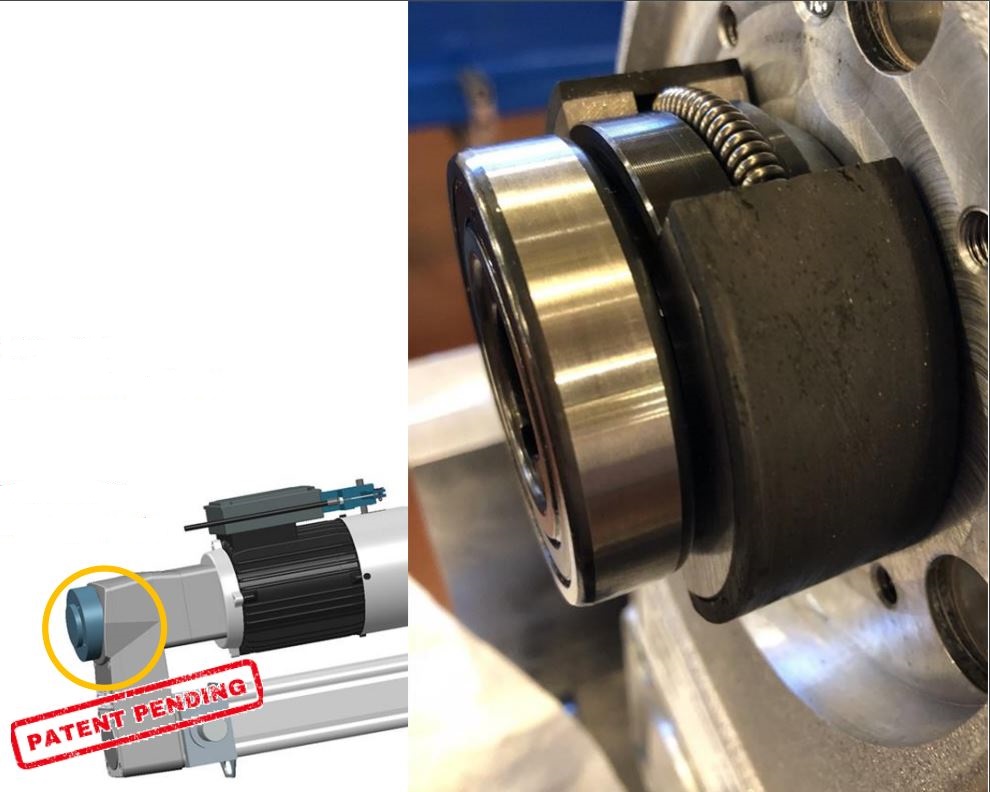 4 CAHB -2xE features for steering, pothole, platform
Push and pull force up to 10 kN
Stability 20 kN
Over load force limitation
Stroke up to 700 mm
Speed up to 55 mm/s
Low backlash to avoid floating steering
Manual over ride option
Position feedback via absolute analog position output or encoder
Built in controller with monitoring and CANBus for the CASHB2xS version (new)
Environmental tests documented: mechanical, electrical, climatic : IP69K/66M , -40 to 85 °C..
Customizations: stroke, retracted length, force limitation, cable, attachment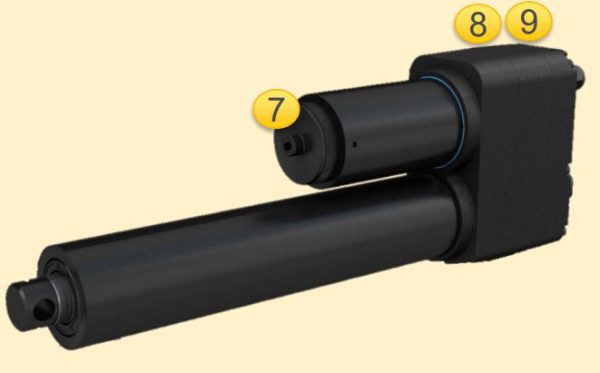 5 CAHB-2xS features for steering
Push and pull force up to 10 kN, Stability 20 kN
Electronic overload force limitation
Stroke up to 700 mm
Speed up to 55 mm/s
Anti rotation tube and free spinning attachment
Low backlash to avoid floating steering
12, 24 and 48 VDC version
Manual override option
Command by IO and CANBus SAE J1939
Functions : parallel motion, adjustable endstop, …
True absolute position : analog output or CANBus
Off-board diagnostic and OnBoard diagnostic
Environmental tests documented: mechanical, electrical, climatic : IP69K/66M , -40 to 85°C
Customizations: stroke, retracted length, force limitation, cable, attachment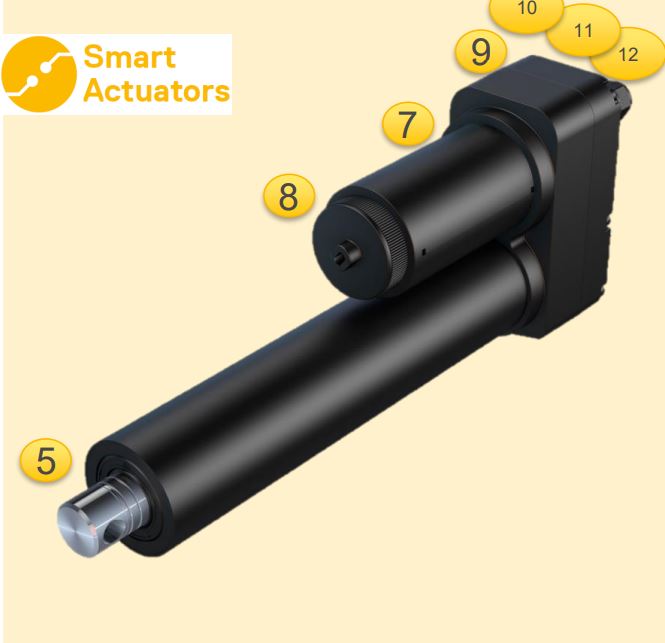 6 CAHB-10 features for locker
Push and pull force up to 1.5 kN
Stability 1.5 kN
Speed up to 56 mm/s
Stroke up to 300 mm
Position feedback via absolute analog position output or encoder
Environmental tests documented: mechanical, electrical, climatic IP69K/66 , -40 to 85°C..
Customizations: stroke, retracted length, cable, attachment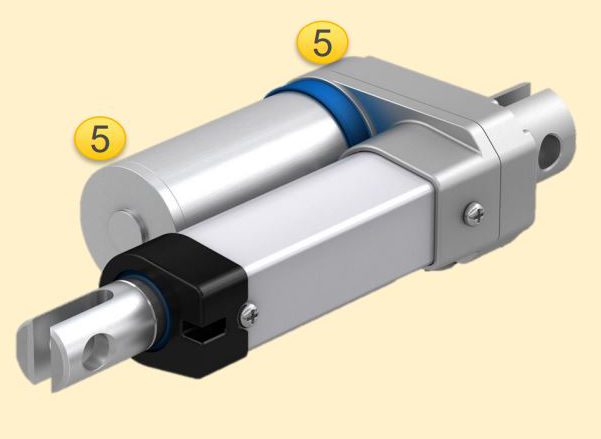 7 Tested for your environment
Ewellix's expertise in mechanics and electronics, and specific application requirements contribute to the development of electromechanical actuators to meet the requirements of mobile machinery manufacturers. We verify our products by a comprehensive test plan that covers all regulatory and environmental requirements.
Mechanical tests
The actuators are used on mobile equipment, and we put them on different test benches to validate how they withstand vibration and shock on all three-axes.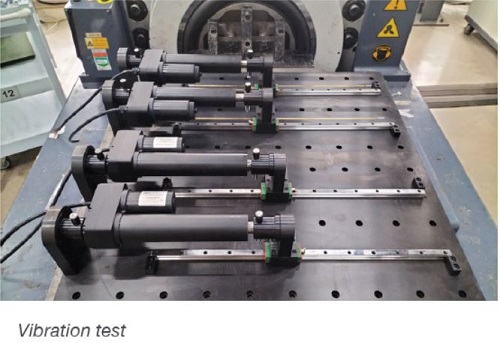 Climatic tests
The actuators are tested in a climatic test chamber that reproduces extremely low -40°C and high temperatures +85°C, and any possible variations, including humidity and corrosive atmospheres. Doing this ensures that all the functions and performance of the actuators are working as expected.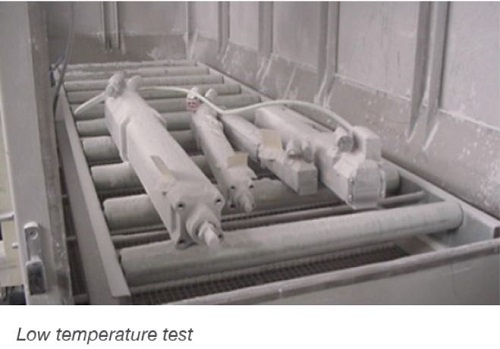 Electrical tests
The actuators are tested with different test equipment that reproduces the electrical environment recommended by international standards, such as power supply, immunity to the electrostatic discharges, and electromagnetic compatibility during extreme cases, even during the transient mode typical on a vehicle.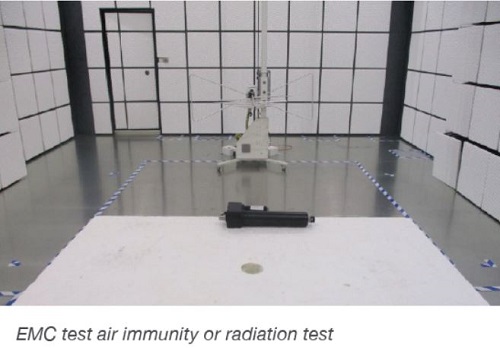 8 Summary of the Value proposition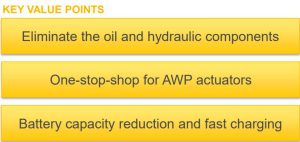 ADDITIONAL VALUE POINTS
Quick delivery time for samples
Ability to replicate customer specification on test bench
Mass production with Global manufacturing
Lower Total Cost of Ownership
9 No oil, no leaks
No hydraulic cylinder means no hoses, no pump, no control valve, no relief valve, no filters and no reservoir.
Risk of leaks is fully eliminated
No slipping risk on floor
No floor cleaning operation
No maintenance related to oil management
No oil changes
No replacement hoses
No diaper changes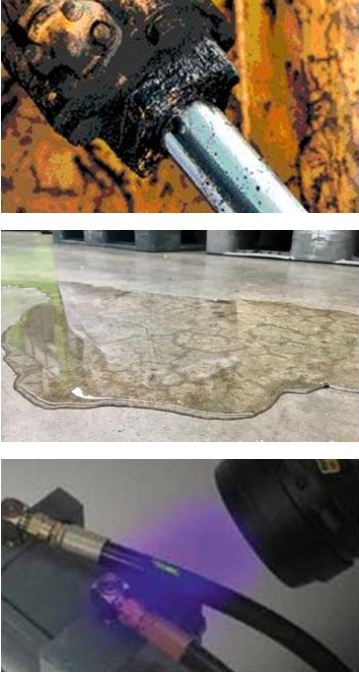 10 Complete range of E-M actuators for AWP
Solutions designed for AWP replacing all hydraulic cylinders
Lift function
CASM up to 150 KN
Back up nut
Manual Lowering with speed control
Built-in position sensor (absolute or incr.)
Attachment point at the same position
Steering function, pothole guard system
CAHB2xE up to 10 KN, stability 20 KN
Absolute analog position output
CAHB2xS with Built-in Controller, IO and CAN Bus, parallel motion function, ISO 25119 compliance (pending)
Other auxiliary functions
Platform horizontal movement, locker
11 Smart CAHB-2xS, simple with CAN bus or I/O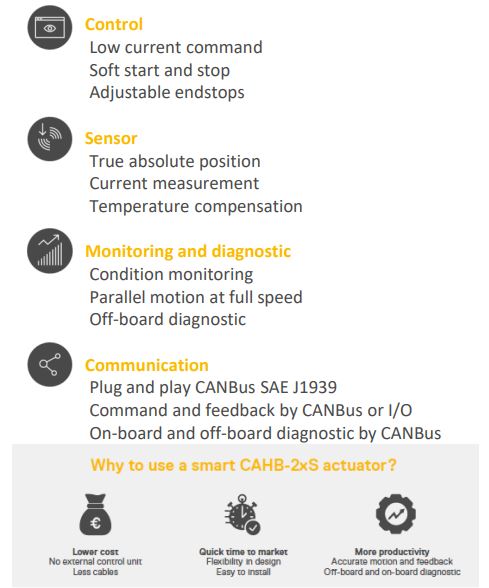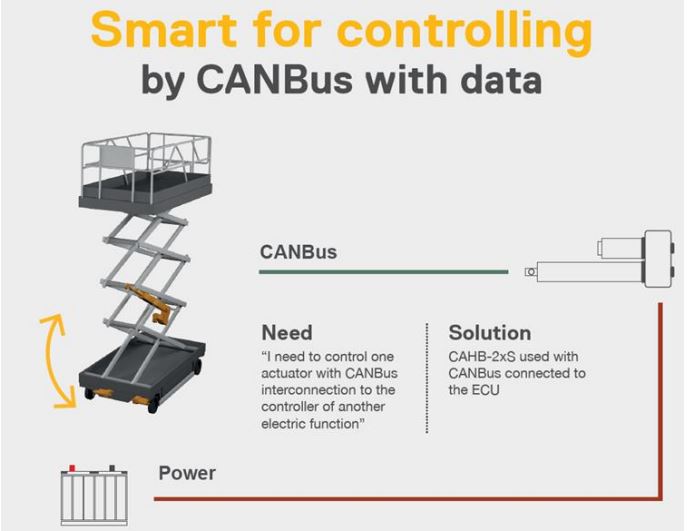 Steering system : Hydraulic versus CAHB-2xS
12 Energy recuperation example EMA vs EHA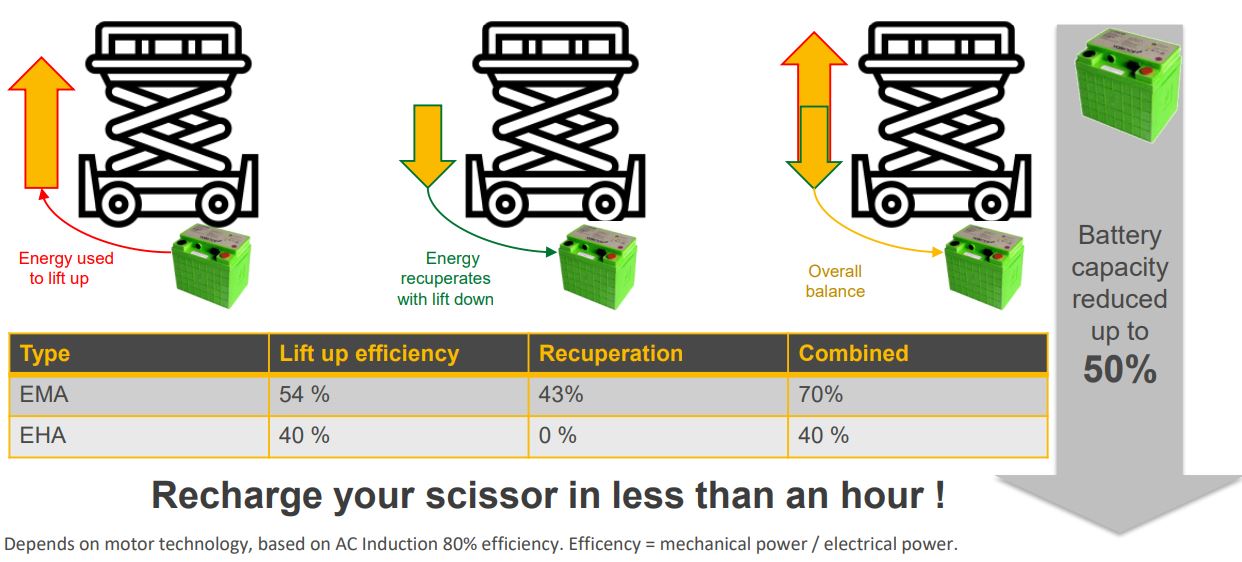 Extra value points
Quick delivery time for samples: 4 weeks for standard products
Ability to run life-time test with customer specs
Global mass production
Manufacturing in Europe, Asia and NAM
Ramp up of production capacity line to follow the market adoption
Capacity: over 10 000 Actuators Mid 2022
13 Total Cost of Ownership – Real customer case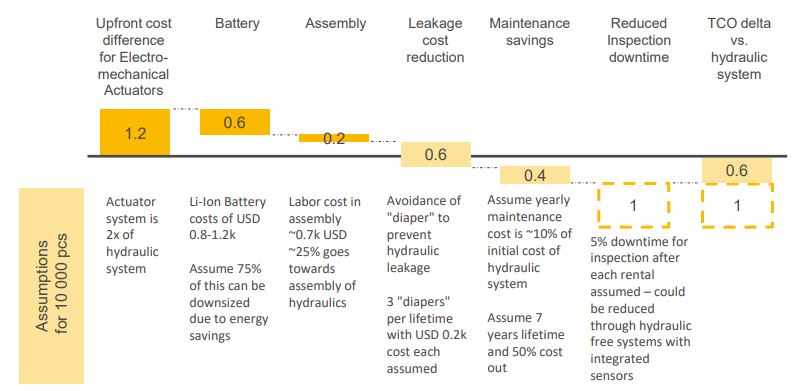 More uptime, no leakage, lower Total Cost of Ownership
With greater efficiency and electrical power recuperation from the regenerative lowering system, electromechanical actuators optimise the cost of batteries by increasing their uptime.
Better motion control and feedback will achieve greater productivity. Oil-free operation drastically reduces maintenance effort and eliminates the risk of oil leaks. All the above contributes to a decrease in the Total Cost of Ownership.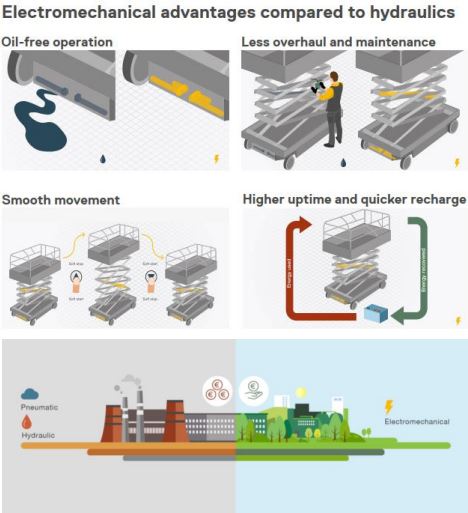 Customer support tools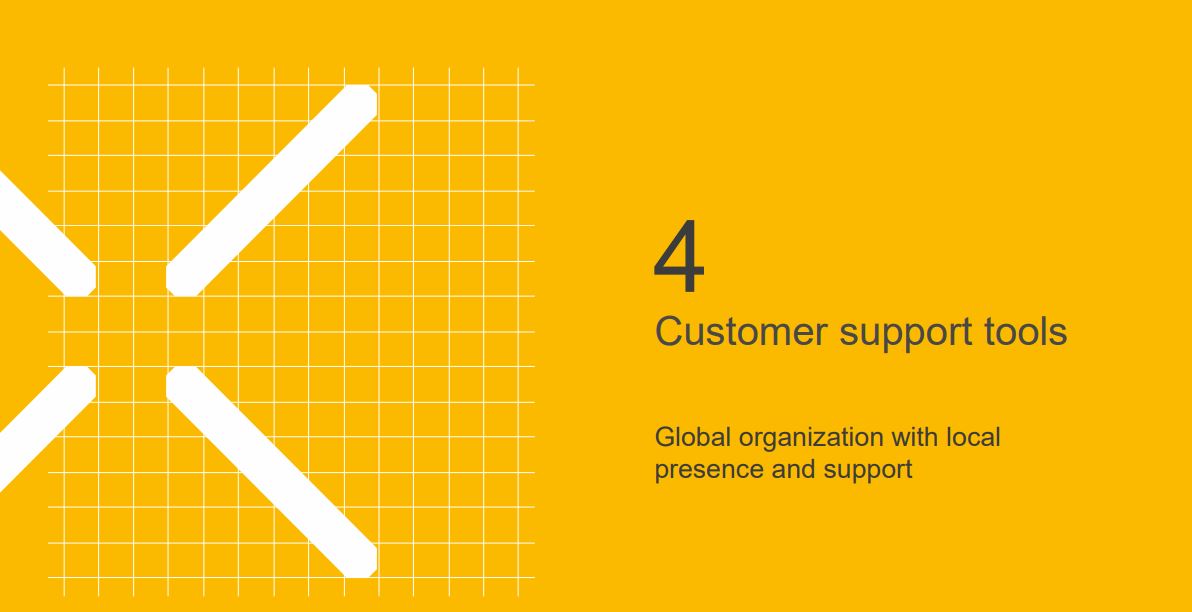 The right tool for the optimal choice
We support our customers in selecting the optimal solution with our engineering tools for actuators, ball & roller screws and linear guides products.
Customers can get our suggestion for a technology or a product that fits their needs.
They can just use the performance calculation to validate the selection and download the correct CAD file to be used